Barry Whistler Gallery
Road Agent
New Art From Chicago
Scott Anderson, Aaron Baker,
John Parot, Steve Reber
"Road Agent is proud to announce the opening of New Art from Chicago, featuring work by Scott Anderson, Aaron Baker, John Parot, and Steve Reber.
Despite its title, this show is based on a social rather than a geographic locus; that is, that specific social networks and affinities draw certain artists together, pooling sympathetic aesthetics. The artists currently live and work in Chicago, and indeed, these four are friends, but more importantly they share an aesthetic "blood-type", leading to a kind of innate curation.
The result is a show of new works in various media—including sculpture, painting, and works on paper—presenting an ease in each other's company. Collectively, the works straddle the natural and the synthetic: see Steve Reber's wood-grain laminate, Aaron Baker's biomorphic abstractions in plastic paint, John Parot's neo-primitive neon masks painted on magazine cut outs, and Scott Anderson's hyper-saturated futurescapes.
In the work you find a nostalgia for the future as imagined in the 1970s and '80s along with a desire to smash together as many cool ideas as possible. Both are elements of what it was like to be a guy growing up on steady diet of science fiction and fantasy, with an aptitude for working with one's hands and the raw need to just make something."
by Aaron Barker
by Steve Reber
THE PUBLIC TRUST
2919-C Commerce St. // Dallas, TX 75226
214.760.7170 // www.trustthepublic.com
"Choice Cuts: A group show featuring works by: Steven Hopwood Lewis (Above image), Evah Fan, Evan Hecox, Gary Taxali, Gary Baseman, Cody Hudson, Dalek and more..."
(Okay. This is a side note. I know Brian made a comment in the past week that, as far as I can tell, was taken a bit out of context, and then a very irresponsible writer titled the piece "Gentrification Welcomed By Deep Ellum Artists", which pissed off a whole ton of Deep Ellum artists. I've already made my comment, but I'd like to say this regarding The Public Trust as a neighbor (my office is about three blocks or so away): no one wants Brian to leave town. We want The Public Trust here.

I appreciate the national attention Brian's brought to our hood. His shows are recognized all over the country, and every opening that I've been to over there is packed. I mean for crips sakes Ian MacKaye played there. How bad ass is that?

Brian's a member of the Deep Ellum Association and last year he helped make some Deep Ellum t-shirts. Every time I've spoken to the guy, he's been friendly and helpful. I think people should be more pissed at the horrible, sensational title the author chose for the piece, rather than one comment. I also would like to offer my hand out the The Public Trust and invite him to come to DEEP meetings and stop by the DEA office sometime. Alright I'm hoppin off the soap box now.)
Later tonight I'm headin over to the Ol' Sloppyworld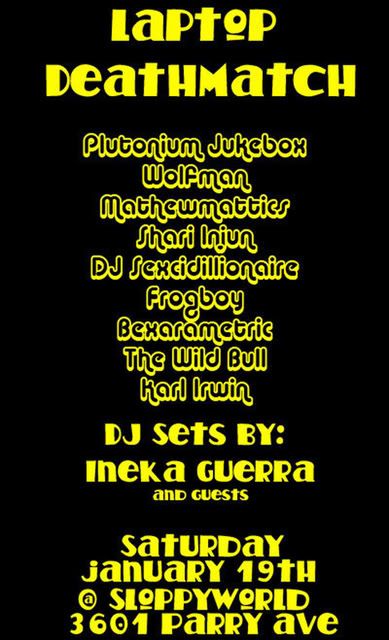 And I'm going to the Bar of Soap to see The Backsliders too: