I am sick. It sucks. Stupid air pollution weather crap is dying in my throat.
Anyway, I am staying home trying to get better because there are too many fun things going on this week. It's my very first art show! Here's a press release I tossed together for the big ol' happy time:
"Saturday, August 25th, at 3pm art and music attack Space Studio. "Obscenely Unseen" features not only great music, but great art as well!
Acts include White Light Fever, Blackheart Society, Arguing Semantics, Robert Jones, The Vibes, Electric Church, The Grass Fight, The Pumpkin Sea, and DJ Fred Deviant. The first band goes on at 4pm.
While you bob your head to some righteous tunes, you can gaze at artwork by Jeremy Meador, Tony Bones, Courtney Adams, Kate Martin, Robert Hudson, Alison Marie Welsh, C.Kirk, Misty Maberry, Eric Baze, Clay Driver, and Studio Fling artists Paul, Rob Jr., and Tony.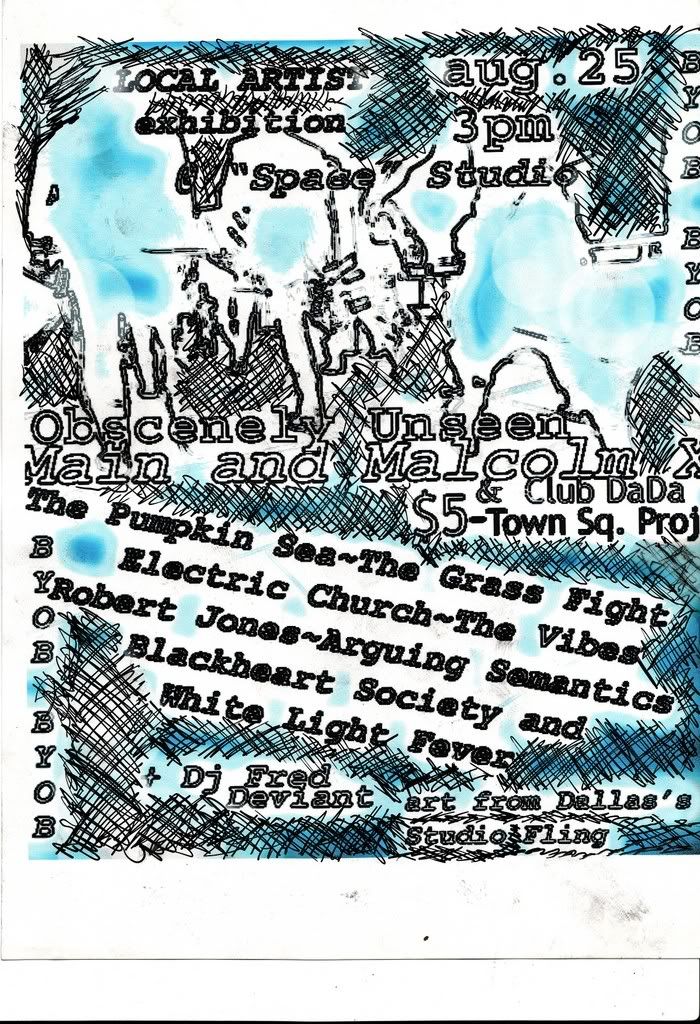 This is a BYOB event, so run to the nearest store and load up your sack! The cover is only $5, a measly amount of change for the vast amount of noise and visuals within.
This event is hosted by Mikey Branton and Matt Craddock at Space Studio located at 2814 Main St, Dallas, TX 75214. Please contact Mikey at whitelightfever@yahoo.com for any further information.
Also, that night, my pal Richard Ross is having a one night solo show at Kettle Art. You really need to see that one too, and it's walking distance from our show at Space.
I love Richard's stuff. In fact, I own two of his pieces! Check back in with the Sub-Rosa Wednesday for a very special interview with Richard.